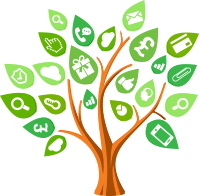 eTapestry is Blackbaud's flagship cloud based system for small to medium sized charities. It is versatile and benefits from some great customisation options to fit users' needs. It has a web presence that can integrate into your current website without complex coding.
It has a relatively cheap price tag, and low entry level, but that brings with it few bells and whistles and sometimes getting it to conform to seemingly simple current procedures can be a headache. A number of features are well established in the US version but haven't yet made it to the UK, which will greatly improve its status here.
That said, and if you're prepared to bend some of your own ways of thinking into 'the eTap way', it may well work out great for you.
If you're new to eTapestry, considering its fit for you, or if you've been with it for a few years and want to take it to the next level, give me a ring. I can help.
Initial Set up and data preparation
Data importing
Query and Report setup
User Defined Fields and data structure
I'm keen to support good causes, so if you're a good cause do get in touch.  eTapestry can be a joy to use.  In my experience, it takes a bit of getting used to and sometimes getting everything working together can be tricky – but it's worth it!
"For the first time we've been able to effectively search, segment and reach out to donors all from one place freeing up precious resource and streamlining our operations."